After a tumultuous political career, Lizz Truss has announced her resignation as prime minister of the United Kingdom. During her tenure, she faced numerous challenges and controversies, including bitter debates over Brexit and ongoing tensions with Europe. Despite this, her time in office was most notable for the bump in the stock market following her resignation announcement. Within minutes of her statement, the FTSE 100 index had gained a healthy 0.30%, adding 21 points to the index overall. However, 20 minutes later, fears over her potential successors seemed to weigh on investors' minds, and they began to sell off their shares. As of now, the index is sitting at just -0.05% for the day, putting it 3 points lower than it was before Truss' resignation. Regardless of what happens next for the UK economy, however, Truss' legacy will forever be linked to that initial spike in investor confidence on an otherwise ordinary afternoon.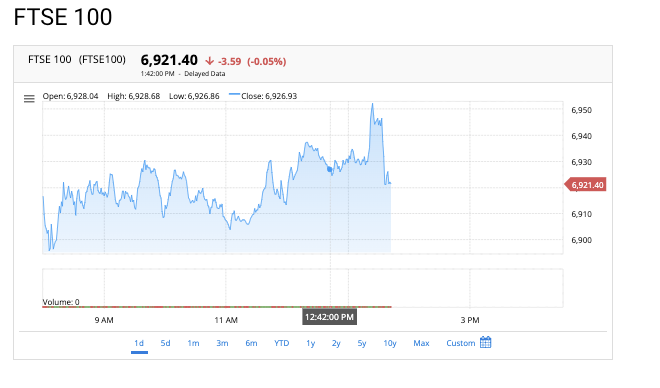 FTSE 100 – Top Losers
Earlier today, Lizz Truss announced her resignation as UK prime minister after a tumultuous term in office. This news comes on the heels of a number of notable developments, including disappointing performances by major corporations in the stock market. Shares of BT Group and International Consolidated Airlines fell sharply, losing 2.98% and 2.76%, respectively, while Anglo American shares dropped by a dismal 2.66%.
It remains to be seen what impact this news will have going forward. Some analysts believe that it could be a reaction to increasingly unfavorable market conditions, with rising political uncertainty weighing heavily on investor confidence. There is also some speculation that Truss's announcement may have been related to political machinations behind the scenes, suggesting that there may be further upheaval within the government in the days to come. Whatever the case may be, these are certainly times of great turbulence for the UK economy, and investors will no doubt be keeping a close eye on these developments in the weeks ahead.
NAME
LATEST PRICE
PREVIOUS CLOSE
LOW
HIGH
+/-
%
TRADE TIME
DATE
3 MO.
+/-
%
Smiths
15.11
15.34
14.96
15.22
-0.23
-1.50%
08:49 AM
20.10.2022
0.00
0.00%
Coca-Cola HBC
19.29
19.60
19.13
19.53
-0.31
-1.56%
08:49 AM
20.10.2022
-0.32
-1.50%
Bunzl
27.32
27.78
27.01
27.88
-0.46
-1.66%
08:49 AM
20.10.2022
-2.80
-8.38%
Airtel Africa
1.24
1.26
1.24
1.28
-0.02
-1.66%
08:48 AM
20.10.2022
-0.52
-26.94%
Diageo
35.98
36.62
35.81
36.52
-0.64
-1.74%
08:50 AM
20.10.2022
-0.60
-1.41%
Rio Tinto
46.29
47.33
46.24
47.16
-1.04
-2.20%
08:50 AM
20.10.2022
-5.08
-8.40%
Auto Trader Group
5.05
5.18
5.04
5.18
-0.12
-2.39%
08:50 AM
20.10.2022
-0.60
-8.96%
AstraZeneca
95.58
98.09
95.12
97.46
-2.51
-2.56%
08:50 AM
20.10.2022
-12.90
-10.17%
Vodafone Group
0.99
1.01
0.98
1.02
-0.03
-2.63%
08:50 AM
20.10.2022
-0.40
-25.82%
London Stock Exchange
72.62
74.60
72.42
74.72
-1.98
-2.65%
08:50 AM
20.10.2022
-3.50
-3.93%
Anglo American
25.60
26.30
25.56
26.11
-0.70
-2.66%
08:50 AM
20.10.2022
0.50
1.67%
International Consolidated Airlines
1.15
1.18
1.13
1.17
-0.03
-2.76%
08:50 AM
20.10.2022
-0.12
-9.16%
BT Group
1.24
1.28
1.23
1.28
-0.04
-2.98%
08:50 AM
20.10.2022
-0.79
-35.27%
Forex Market
The pound surged following the news that Liz Truss has resigned as UK prime minister, with the GBP/USD rising by 0.00494. This dramatic increase is widely seen as a vote of confidence in Boris Johnson, who is now rumored to be set to take over Truss's position at the head of the government.
Analysts believe that Johnson's appointment could lead to more economic and political stability for the UK, which has been facing tremendous challenges in recent months.
Regardless of whether or not that proves to be true, it is clear that the pound reacted very positively to this piece of news, indicating that traders are optimistic about its future prospects. Overall, it seems likely that this development will be strongly bullish for the GBP/USD in the near term.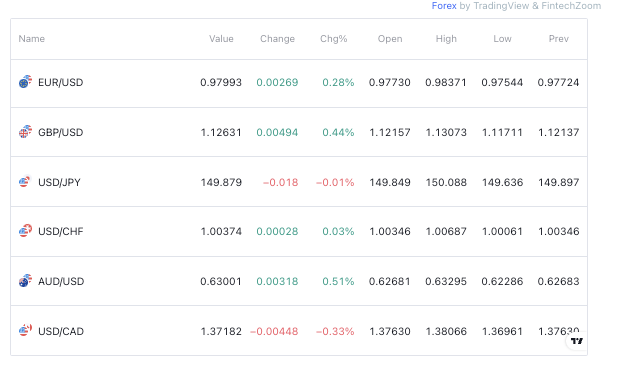 Market Comments
Giles Coghlan, Chief Market Analyst, HYCM, said:
"After just 44 days in office, it appears that the markets and a party in open revolt have sealed Liz Truss's fate. Although Truss was brought into usher in an era of growth and 'trickle-down economics', her strong pro-growth policy was poorly timed, sending the UK bond markets into a sharp sell off as her policies fanned the flames of surging inflaton. To fend off instability, the Bank of England has even intervened in gilt markets, and it remains to be seen whether the central bank will now hike interest rates more quickly.
"With all that in mind, Truss's departure is likely to be mildly GBP positive, depending on her successor for the premiership. Already, the UK gilt market was supported as rumours of the prime minister's resignation came to light this morning, which is a good sign for the pound's stability."
Susannah Streeter, senior investment and markets analyst, Hargreaves Lansdown:
''First her policies went up in flames, then her brief career as Prime Minister. The great political gamble of Liz Truss has spectacularly backfired but not before wreaking significant damage to the UK economy. It will take considerable time before the risk premium attached to UK assets fades away, following the financial nervous breakdown which followed the mini-budget.
With a political implosion seemingly imminent, and expectations rising that Liz Truss' minutes in power were numbered, the pound crept up in value, heading back towards $1.13. As she gave her resignation statement, it largely held onto gains. Sterling is highly sensitive to economic policy uncertainty and even though the ship Britannia will still be left largely rudderless, with a successor still to be chosen, as far as investors are concerned, the future is marginally brighter without her in charge. Ten-year gilt yields eased further today, as speculation soared about her resignation, a sign of tacit approval from the bond vigilantes who punished the UK by deserting its government's debt as worries raced up about fiscal responsibility. However, on the equity markets, news of Truss quitting was met with another bout of nervousness, as political uncertainty conspired with worries about the impact of recession.
With the third Prime Minister in just a year expected to be announced by the end of the month, the UK will still be viewed in financial markets as politically unstable. What investors crave is more steadiness and reliability but until they know who will take charge and lead an economic recovery, that stability still remains highly elusive which means that neither sterling nor stocks are likely to make any big strides of progress.''