London is a city known for its vibrant atmosphere, rich history, and diverse culinary scene. When summer arrives, there is no better way to enjoy all that London has to offer than by indulging in the al fresco delights of its premier terraces. Whether you're looking for a romantic date night, a family-friendly outing, or simply want to relax and soak in the city's skyline views, London's terraces have something for everyone.
Also read: Discover London's Best Cocktail Bars: A Guide to Celebrating World Cocktail Day.
Benefits of dining or relaxing on a terrace
Dining or relaxing on a terrace offers a unique experience that sets it apart from indoor dining. The fresh air, the natural light, and the enchanting ambiance create a delightful setting that enhances the overall dining experience. Being outdoors also provides a sense of freedom and connection with nature, allowing you to truly savor your surroundings.
In addition, terraces often offer more space compared to indoor seating, allowing for a more comfortable and relaxed atmosphere. Whether you're enjoying a meal with friends, engaging in conversation, or simply unwinding after a long day, the open-air environment of a terrace provides the perfect backdrop.
London's most iconic terrace locations
When it comes to premier terraces in London, there are several iconic locations that are a must-visit. One such terrace is the Sky Garden, situated atop the Walkie Talkie building in the heart of the city. Offering breathtaking panoramic views of the London skyline, this terrace is a haven for nature lovers, featuring lush greenery and an abundance of exotic plants.
Another notable terrace is the Queen Elizabeth Roof Garden Bar & Café, located on top of the Southbank Centre. This hidden gem boasts stunning views of the River Thames and the city's skyline. With its relaxed atmosphere and delicious food and drink options, it is the perfect spot to unwind and enjoy a summer evening.
The best terraces with city skyline views
If you're seeking terraces with unparalleled city skyline views, London has plenty to offer. The Coq d'Argent is a rooftop terrace nestled in the heart of the financial district. With its panoramic vistas of the iconic London landmarks, such as the Gherkin and the Tower of London, this terrace provides a truly memorable experience.
For those looking to combine stunning views with exquisite dining, the Aqua Shard terrace is a must-visit. Situated on the 31st floor of the Shard, the tallest building in Western Europe, this terrace offers breathtaking views of the city skyline while enjoying delicious food and drinks.
Hidden gem terraces for a unique experience
While London is known for its iconic terraces, there are also hidden gems that offer a unique and off-the-beaten-path experience. The Franks Café & Campari Bar, located on the rooftop of a multi-story car park in Peckham, is one such hidden gem. With its panoramic views of the London skyline, eclectic art installations, and vibrant atmosphere, it has become a favorite among locals and visitors alike.
Another hidden gem is the Pergola Paddington, nestled in the heart of Little Venice. This terrace offers a tranquil escape from the bustling city, surrounded by lush greenery and overlooking the Grand Union Canal. With its array of food and drink options, it is the perfect spot for a relaxing summer evening.
Terraces with live music and entertainment
For those seeking a lively and entertaining terrace experience, London has a range of options to choose from. The Roof Gardens in Kensington is a popular destination, featuring not only stunning views and beautiful gardens but also live music and entertainment. With its diverse lineup of artists and events, there is always something happening to keep you entertained.
If you're looking for a terrace with a vibrant atmosphere and live music, the Madison Rooftop Bar & Restaurant is a great choice. Situated on the top floor of One New Change, it offers panoramic views of St. Paul's Cathedral and the city skyline. With its resident DJs and live music events, this terrace is the place to be for a memorable night out.
Romantic terraces for a special date night
London's terraces also provide the perfect setting for a romantic date night. The Boundary Rooftop, located in Shoreditch, offers panoramic views of the city's skyline and a romantic ambiance. With its cozy seating areas, fairy lights, and delicious food and drink options, it sets the stage for a memorable evening with your loved one.
For a more intimate and secluded experience, the Rooftop Film Club at the Bussey Building in Peckham is a great choice. It transforms into an open-air cinema, allowing you to cuddle up under the stars while enjoying a classic film and delicious snacks.
Family-friendly terraces with activities for kids
Families with children can also enjoy the terrace experience in London. The Roof East in Stratford is a family-friendly destination that offers a range of activities, including rooftop mini-golf, lawn bowls, and even a roller disco. With its stunning views of the Olympic Park and the city skyline, it provides a fun-filled day out for the whole family.
For a unique and educational experience, the Serpentine Pavilion in Hyde Park is a great choice. It hosts a variety of family-friendly events and workshops, allowing children to engage with art and architecture while enjoying the beautiful surroundings.
Terraces with delicious food and drink options
London's terraces are not only known for their stunning views but also for their delicious food and drink options. The Oxo Tower Brasserie terrace, located on the eighth floor of the iconic Oxo Tower, offers a menu of modern British cuisine and an extensive selection of cocktails. With its panoramic views of the River Thames and the city skyline, it is the perfect spot for a culinary adventure.
For those seeking a taste of the Mediterranean, the Coppa Club terrace is a must-visit. Situated by the River Thames, this terrace offers a relaxed and stylish setting, serving a range of Mediterranean-inspired dishes and refreshing cocktails.
In the heart of Chelsea, London you can also find the Bluebird Chelsea Terrace. It offers a charming and inviting atmosphere with its stylish design, comfortable seating, and lush greenery. It's adorned with elegant furniture, including plush sofas, cozy armchairs, and dining tables, creating a sophisticated yet relaxed setting.
One of the highlights of the terrace is its beautiful garden, filled with vibrant flowers, plants, and trees. This green oasis provides a refreshing and tranquil environment where guests can unwind and enjoy their meals or drinks. The Bluebird Chelsea Terrace is renowned for its excellent culinary offerings. It serves a diverse menu that showcases a range of international and British dishes, prepared with fresh and locally sourced ingredients. From gourmet burgers and seafood delicacies to salads and vegetarian options, there is something to cater to every palate.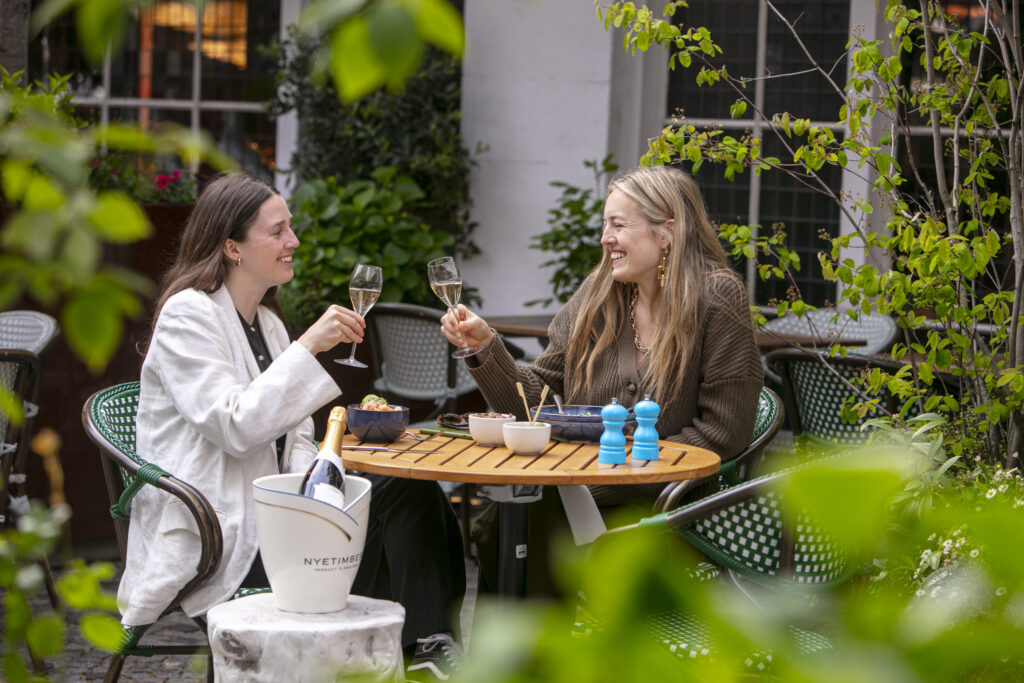 In addition to its dining experience, the terrace also hosts various events and activities. It is a popular venue for social gatherings, parties, and celebrations. Throughout the year, the terrace hosts live music performances, themed parties, and seasonal festivals, creating a vibrant and lively ambiance.
Tips for making the most of your terrace experience
To make the most of your experience in London, here are a few tips to keep in mind:
Make a reservation: London's terraces can get busy, especially during peak times. To secure a spot and avoid disappointment, it is advisable to make a reservation in advance.
Dress appropriately: While most terraces have a relaxed dress code, it is always a good idea to check beforehand. Some terraces may have specific guidelines or require a slightly more formal attire.
Check the weather: London's weather can be unpredictable, so it's a good idea to check the forecast before heading out. If rain is in the forecast, some terraces may have indoor seating options or covered areas.
Arrive early: To secure the best seats and fully enjoy the terrace experience, consider arriving early. This will also allow you to take in the views and ambiance before it gets too crowded.
Explore nearby attractions: Many of London's premier terraces are located near iconic landmarks and attractions. Take the opportunity to explore the surrounding area and make the most of your visit.
Conclusion and final thoughts
London's premier places offer a unique and memorable way to enjoy the city's vibrant atmosphere and stunning views. Whether you're looking for a romantic date night, a family-friendly outing, or simply want to relax and savor delicious food and drinks, these terraces have something for everyone. Soak in the summer evenings, indulge in al fresco delights, and create lasting memories at London's premier terraces.