Breitling, the renowned Swiss watchmaker, has recently introduced two new additions to its iconic Navitimer collection – the Navitimer 36 and Navitimer 32. These exquisite watches are designed to cater to individuals who prefer a smaller and more elegant timepiece. With their radiant mother-of-pearl dials, traceable 18k red gold, and responsible lab-grown diamonds, the new Navitimer models are sure to captivate watch enthusiasts and fashion-conscious individuals alike.
Also read: Mastering Precision and Innovation: The Richard Mille RM 72-01 Le Mans Classic.
Breitling Navitimer: A Symbol of Timeless Style and Functionality
The Navitimer is a legendary timepiece that has been recognized as one of the most iconic watches ever made. Initially designed as a tool for pilots in 1952, it has since become a symbol of personal journeys and exceptional craftsmanship. Breitling's latest additions to the Navitimer collection pay homage to this rich heritage while infusing a touch of modern elegance.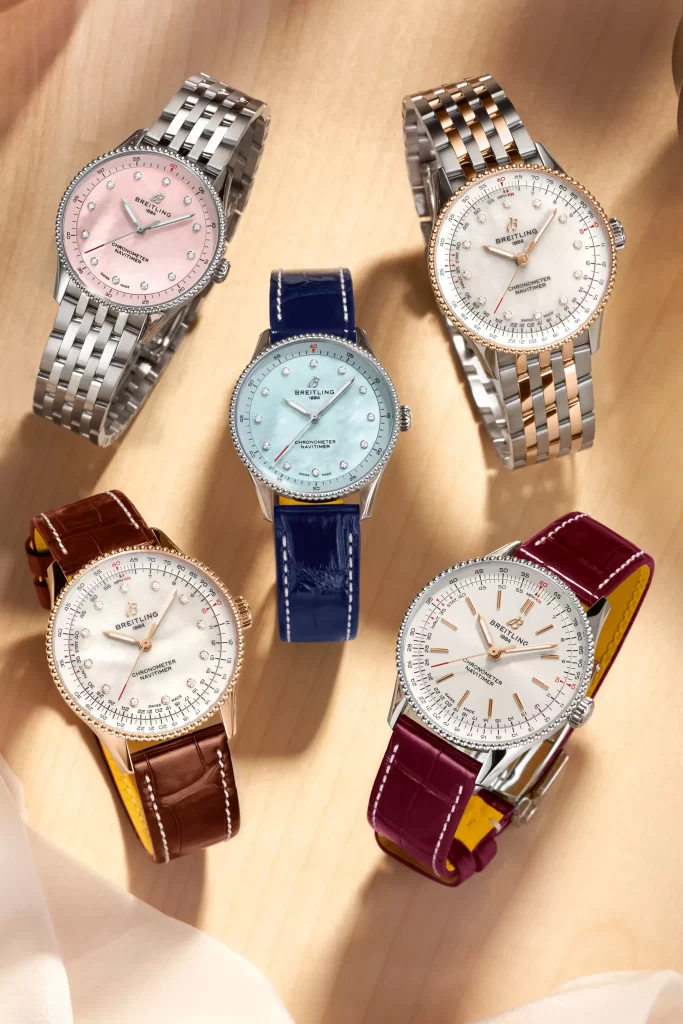 Introducing the Navitimer 36: A Perfect Blend of Form and Function
The Navitimer 36 is an exquisite timepiece that comes in a more petite 36mm size, making it ideal for those who prefer a smaller diameter watch. This versatile timepiece features the signature beaded bezel and circular slide rule that define the Navitimer's distinct appearance. However, what sets the Navitimer 36 apart is its array of chic metallic dial colors, including mint green, silver, and anthracite, as well as a stunning white mother-of-pearl dial adorned with round-cut "better diamonds."
Breitling's commitment to sustainability is showcased in the use of lab-grown diamonds, which are traceable to producers who have achieved the SCS-007 Sustainability Rated Diamonds Standard. Additionally, the full-gold version and the gold bezel on the two-tone model are crafted using "better gold" sourced from artisanal and small-scale mines that meet the Swiss Better Gold Association's criteria for social and environmental impact. These watches are marked with Breitling's Origins label, denoting their traceable and ethically sourced materials.
The Navitimer 36 is powered by the COSC-certified Breitling Caliber 17, a self-winding movement renowned for its precision and reliability. This remarkable timepiece offers a three-hand display, providing accurate timekeeping for the wearer's convenience. Whether paired with a stainless steel seven-row bracelet or an alligator leather strap, the Navitimer 36 exudes elegance and sophistication.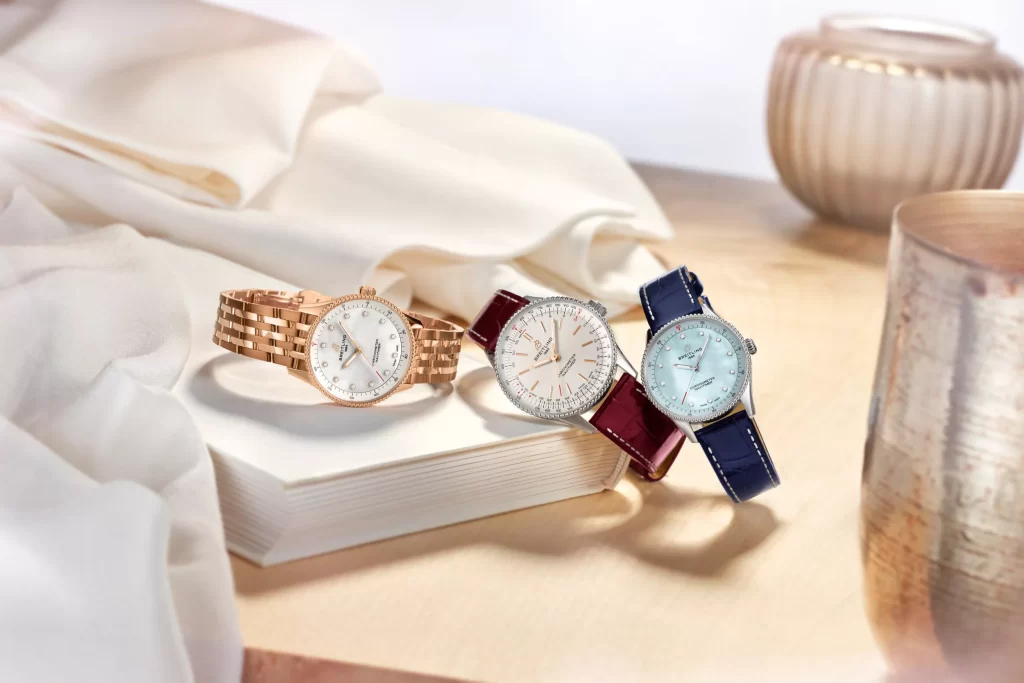 The Navitimer 32: A Delicate Marvel of Design and Technology
For those seeking a smaller and more refined timepiece, the Navitimer 32 presents an impeccable choice. With its 32mm diameter, this watch is designed to exude understated elegance. The Navitimer 32 features a simplified dial design, omitting the slide rule to enhance its sleek appearance. It is available in a range of mesmerizing mother-of-pearl dial colors, including powdery pink, light blue, and classic white.
Similar to its larger counterpart, the Navitimer 32 incorporates "better diamonds" across the line, ensuring the highest quality and ethical sourcing. The use of "better gold" is also prevalent in the full-gold version and the bezel of the two-tone model, further exemplifying Breitling's commitment to sustainability and responsible sourcing.
The Navitimer 32 is powered by the Breitling Caliber 77, a thermos-compensated SuperQuartz™ movement that offers exceptional accuracy. As with all of Breitling's quartz calibers, the Caliber 77 is COSC-certified, guaranteeing precise timekeeping. With its 50-meter water resistance, this timepiece is suitable for a variety of occasions, from everyday wear to elegant soirées.
The NAVITIMER – FOR THE JOURNEY Campaign: Celebrating Personal Journeys
Breitling's NAVITIMER – FOR THE JOURNEY campaign showcases the personal journeys of individuals who have achieved remarkable success in their respective fields. Academy Award-winning actor Charlize Theron joins the Navitimer Squad, which includes basketball superstar Giannis Antetokounmpo, principal dancer Misty Copeland, and aviation pioneer Bertrand Piccard. Theron's journey from remote South Africa to international stardom resonates with the spirit of the Navitimer, making her the perfect ambassador for the new Navitimer 36 and 32.
Through powerful visuals and personal narratives, the NAVITIMER – FOR THE JOURNEY campaign captures the essence of these extraordinary individuals' achievements. Theron's story highlights the importance of embracing challenges and remaining open-minded to new experiences, both personally and professionally.
Conclusion: A Timepiece for Every Adventure
The new Navitimer 36 and Navitimer 32 from Breitling embody the brand's commitment to exceptional craftsmanship, sustainability, and elegance. These watches offer a perfect blend of form and function, with their delicate designs, radiant dials, and responsibly sourced materials. Whether embarking on a personal journey or making a fashion statement, the Navitimer 36 and 32 are the ultimate companions for every adventure. Choose the watch that speaks to your style and let it accompany you on your own remarkable journey.
Also read these articles: