China's digital payment landscape, a realm previously exclusive to locals, is undergoing a transformation. A significant shift is underway, with the nation's tech titans, Tencent Holdings and Ant Group, enabling international tourists to link their foreign-issued credit cards to their platforms, namely WeChat Pay and Alipay1. This move has been welcomed by many, marking a significant step towards inclusivity and convenience in the Chinese financial ecosystem.
The Payment Paradox: China's Digital Dominance
For many international visitors, the Chinese market presents a baffling paradox. While the country is a global powerhouse in technology and digital innovation, its mobile payment networks have remained largely closed off to foreign credit cards1. This situation has often left foreigners in a bind, unable to partake in the convenience of mobile payments that have become a staple of Chinese commerce.
China's leapfrog over traditional card-based systems in favor of digital payments, spearheaded by e-wallets and mobile payments, has left many foreign visitors in the lurch2. With more than 80% of all payments in China being made using mobile phones and over 90% of these transactions occurring through Alipay and WeChat Pay2, the inability to utilize these platforms due to the requirement of a local Chinese bank account and mobile phone line had been a significant pain point for international travelers2.
Breaking Down Barriers: Tencent and Ant Group's Bold Move
In a landmark decision, Tencent and Ant Group announced plans to allow users to link international credit cards to their platforms1. This move comes after a series of collaborative initiatives with Visa and Mastercard in 2019, aimed at making foreign cards usable on their platforms1. However, due to the global COVID-19 pandemic and its subsequent travel restrictions, these initiatives were put on the back burner1.
But as China began reopening its borders this year, the plans have regained momentum1. International travelers can now set up their foreign cards on these apps with a few simple steps1. This means that global visitors can now partake in a range of goods and services, from quick meals at food trucks to life insurance policies, using their foreign-issued credit cards1.
A New Era of Convenience: The Impact on International Travelers
The opening up of China's digital payment network to international credit cards is a game-changer for foreign tourists. Previously, the use of international credit cards was limited to select businesses1. But now, Tencent and Ant Group are opening up their entire ecosystems to foreign cards1. This move coincides with the full resumption of travel and tourism to China as well as major upcoming international events in the country1.
In 2019, overseas tourists, including those from Hong Kong and Macau, spent a whopping US$131 billion in mainland China1. With the new payment facilitation, this figure is expected to surge as foreign visitors can now "pay like a local"1.
Mastercard and Alipay: A Powerful Partnership
Mastercard and Alipay recently unveiled a new payment option, providing international travelers to China with a simple and secure way to go cashless3. Building on a partnership established in 2019, the service allows cardholders to link their existing Mastercard credit or debit card to the Alipay digital wallet3, eliminating the need to set up or top up a prepaid account3.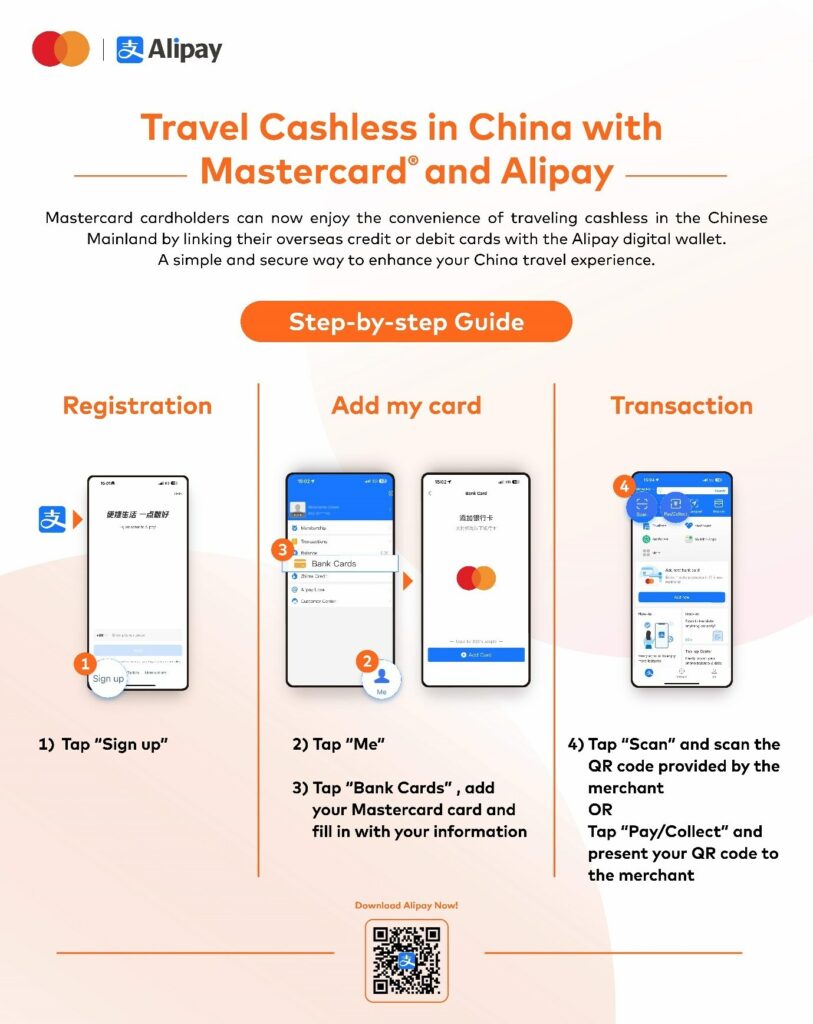 This move not only enables convenient transactions for international visitors but also opens up a world of opportunities for Chinese merchants, particularly small and medium-sized enterprises (SMEs)3. By having access to the most widely accepted payment method in China, these businesses can transact with international visitors easily and without hassle3.
The Road Ahead: Navigating China's Payment System Landscape
While this move presents a significant leap towards inclusivity, it is crucial for travelers to anticipate potential hurdles. Certain challenges may still persist, such as the inability to link cards or make payments even after the setup is complete2. In such situations, carrying cash can act as a safety net2.
Moreover, it is advisable to have a local contact who can assist in case of any issues2. It's also crucial to download the WeChat Pay and Alipay apps and link the cards beforehand2. IT departments may also need to 'white list' some sites and apps for smooth transactions2.
The Bottom Line
The opening up of China's digital payment system landscape to international credit cards marks a significant milestone in the country's financial ecosystem. It not only fosters inclusivity but also aligns with the global shift towards a digital-first economy. As China continues to embrace digital transformation, it is set to redefine the way the world transacts, one tap at a time.
Footnotes