Markets show signs of jitters on news of potential US tightening
S&P 500 closed down 1.26%, with the Nasdaq falling 2.26%, on prospect of "quantitive tightening" coming from the Fed
FTSE100 – down very slightly as it responds to negative sentiment from across the Atlantic
Hilton Food Group – the meat and fish supply specialist sees revenue and profit rise, but falls short of analyst expectations
Following days of heightened volatility oil traded higher to $107
Stock Market – Greenwich Mean Time (GMT) 11:33

The main indexes are loosing today:
S&P 500: -0.99%
FTSE 100: -0.10%
CAC 40: -1.28%
Dow Jones 30: -0.48%
Nasdaq: -1.65%
US Stock Market
With the war in Ukraine ongoing and huge uncertainty surrounding further Russian sanctions swirling, the US markets closed down rather significantly yesterday – especially growth heavy stocks. This comes as new comments from the powers that be have hinted that the Fed may be about to step up how aggressively it plans to combat soaring inflation. The rising of interest rates at the same time as shrinking the balance sheet is a possible scenario, and that injected jitters into markets.
UK Stock Market
The UK market has taken its lead from the US, with negative trans-Atlantic sentiment leading the FTSE100 down very slightly on open, although this hasn't been as stark as was possible. Further ups and downs are to be expected, with all eyes on the Federal Reserve's next move. Looking beyond policies, the wider macro picture is also being rocked by the ongoing situation in Ukraine. With allegations ramping up and new western sanctions against Russia in the pipeline, further Russian economic retaliation looks inevitable. These concerns have no doubt fed into the oil price trending higher, with volatility expected to continue as the geopolitical situation unfolds in the coming weeks and months.
Supply chain issues are also unlikely to be smoothed out any time soon, with Ukrainian commodities in the spotlight. These issues are of course also being compounded by China's lockdowns, which is causing delays for firms around the globe. This is doing little to ease the inflation issues the world is already grappling with. On a stock level, this is going to have the biggest ramifications for some FMCG companies, as well as industrials that rely on Chinese manufacturing.
Looking to specific companies, UK based Hilton Food Group – a meat and fish supply giant has managed to record full year underlying operating profit of £73.6m, up 12.7% on last year. The group's been expanding into new protein products and categories to bolster growth, but warned of a more challenging environment, with global uncertainties impacting supply chains and inflation. Still, being a supplier of core food groups is a more enviable place to be in a world of rising inflation, than those that count their products as discretionary. Despite the strengths, the shares fell over 1% in early trading, as results missed analyst expectations."
FintechZoom 5 Top Stocks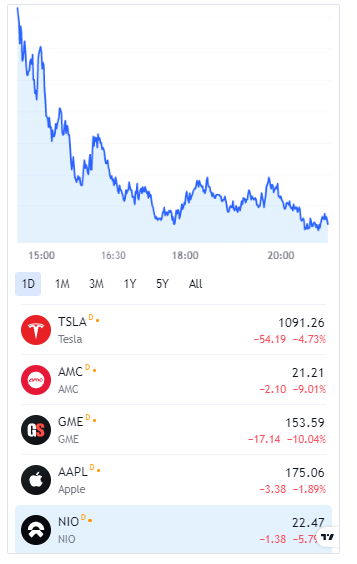 All of 5 Stocks were in red. Tesla Stock lose 4.73%, AMC Stock 9.01%, GME Stock 10.04%, Apple Stock 1.89% and Nio Stock 5.75%
Tesla Stock
General Motors (GM.N) and Honda Motor Co (7267.T) said on Tuesday they will develop a series of lower-priced electric vehicles based on a new joint platform, producing potentially millions of cars from 2027 in a bid to beat Tesla (TSLA.O) in sales. Reuters Source
AMC Stock
AMC Entertainment plans to respond to tough times for movie theaters by looking into becoming a distressed investor, seeking deals along the line of its investment in gold mining, Fox Business reports.
GME Stock
The video game retailer and perennial meme stock GameStop will split its stock, pending approval by shareholders, according to a new regulatory filing on March 31. The company will increase its total number of shares from 300 million to 1 billion., Quartz reports.
Apple Stock
According to Bloomberg, Apple Inc. and Meta Platforms Inc., the parent company of Facebook, provided customer data to hackers who masqueraded as law enforcement officials, according to three people with knowledge of the matter.
Nio Stock
The company is in talks with other automakers to license its battery swap technology, Fool reports.
Conclusion
Dow loses 200 points
Nasdaq drops 2%
Nvidia dropped 5.2%
AMD lost more than 3%
Utilities and health care moved higher on Tuesday, with drugmakers Johnson & Johnson and Pfizer rising slightly along with staples like Procter & Gamble and Walmart.
Cruise stocks Carnival and Norwegian Cruise Line added more than 2% and 1%, respectively.
The Nasdaq Composite led Tuesday's declines, shedding 2.26% to 14,204.17 and giving up its 1.9% pop in the prior session.
The Dow Jones Industrial Average lost 280.7 points, or 0.8%, closing at 34,641.18.
The S&P 500 fell 1.26% to 4,525.12 after posting two straight days of gains.