In a strategic move that promises to reshape the automotive landscape in India, Hyundai Motor Co's Indian unit has announced its acquisition of General Motors' Talegaon plant in the state of Maharashtra. This landmark deal not only allows Hyundai to bolster its annual production capacity but also paves the way for General Motors to exit the Indian market. With this acquisition, Hyundai aims to enhance its cumulative production capacity to one million units per year, a significant milestone for the South Korean automaker. Let's delve into the details of this momentous agreement and its implications for both companies. GM Stock dive -8.94% in Past 5 Days.
General Motors Dive in past 5 days -8.94%. Currently is now at 33.30USD.
In the past five days, General Motors (GM) has experienced a decline of 8.94% in its stock price. As of the current market situation, GM's stock is valued at $33.30 USD. This decrease in value can be attributed to various factors, including GM's announcement of selling its plant in India to Hyundai, concerns about the company's future growth prospects, remarks made by GM's CFO regarding struggles with electric vehicle (EV) production, and the news about a Vietnamese EV maker being valued higher than Ford or GM. These factors have likely contributed to the negative performance of GM's stock in recent days.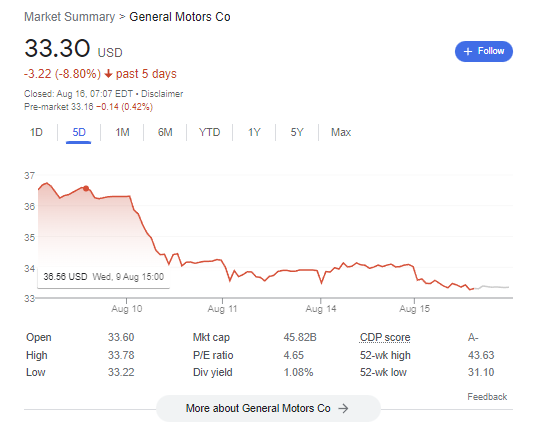 Hyundai's Expansion Plans and the Talegaon Plant Upgrade
Hyundai Motor Co, India's second-largest carmaker, has been making waves in the Indian automotive market. Through its existing Sriperumbudur facility outside Chennai, the company has been able to establish a strong presence. Now, with the addition of the Talegaon plant, Hyundai is set to further solidify its position as a key player in the Indian automotive industry.
The Talegaon plant, which currently has an annual production capacity of 130,000 units, will undergo a comprehensive upgrade under Hyundai's ownership. The South Korean firm plans to invest in improving the existing infrastructure and aims to commence manufacturing operations at the plant by 2025. This move will undoubtedly contribute to Hyundai's goal of increasing its production capacity and meeting the growing demand for its vehicles in India.
General Motors' Exit Strategy and the Challenges Faced
General Motors' decision to divest its Talegaon plant marks its exit from the Indian market. The U.S. automaker ceased selling cars in India back in 2017 after grappling with dwindling sales. However, the complete withdrawal from the market has been marred by complications, including legal disputes with workers and the inability to find a suitable buyer for the plant.
In 2019, General Motors reached an agreement to sell the Talegaon plant to China's Great Wall Motor. However, the deal fell through due to regulatory hurdles and increased scrutiny of Chinese investments by the Indian government. The subsequent acquisition by Hyundai presents a fresh opportunity for General Motors to successfully exit the market and focus its efforts elsewhere.
Hyundai's Electric Vehicle Strategy in India
Hyundai's acquisition of the Talegaon plant comes at a time when the company is doubling down on its commitment to electric vehicles (EVs). Last week, Hyundai announced plans to launch a range of new EVs under both the Hyundai and Kia brands in India, a clear indication of its confidence in the country's potential as the world's third-largest auto market.
To support its EV ambitions, Hyundai plans to invest a staggering $2.45 billion in beefing up EV production in India. The company believes that the local market is ripe for the adoption of EVs, and this investment will enable it to meet the increasing demand for environmentally friendly vehicles.
General Motors' Struggles with EV Production
While Hyundai is poised to expand its foothold in the EV market, General Motors is still grappling with challenges in ramping up its EV production. According to GM's Chief Financial Officer Paul Jacobson, the company has encountered difficulties in assembling battery modules for its electric vehicles, including the Cadillac Lyriq SUVs and BrightDrop vans.
Despite the hurdles, GM managed to manufacture over 1,000 Lyriq vehicles in July. However, this falls significantly short of the company's initial expectations. In early 2022, GM had projected the production of 25,000 Lyriqs at its Spring Hill, Tennessee, plant, but the actual output fell well below this target. In the first half of this year, GM delivered fewer than 2,400 Lyriqs to customers, as it grappled with battery-related issues and other challenges.
A Bright Spot: Cruise's Expansion and Promising Future
Amid General Motors' struggles with EV production, there is a bright spot in the form of its majority-owned subsidiary, Cruise. Cruise is an automated vehicle operation that has made significant strides in overcoming technological challenges and is now entering a phase of operational expansion. With over 400 vehicles already on the road, Cruise aims to capitalize on the growing demand for autonomous vehicles.
Cruise's Chief Financial Officer, Paul Jacobson, expressed optimism about the unit's future prospects. He highlighted Cruise's successful navigation of technology challenges and outlined the company's targets, including a revenue goal of $1 billion by 2025. As costs continue to decline, Cruise expects to experience margin growth, positioning itself as a key player in the autonomous vehicle industry.
Conclusion: A Win-Win Situation
The acquisition of General Motors' Talegaon plant by Hyundai's Indian unit signifies a win-win situation for both companies. Hyundai's expansion plans and increased production capacity will strengthen its position in the Indian market, allowing it to meet the growing demand for its vehicles. Simultaneously, General Motors can successfully exit the Indian market, focusing its efforts on other regions. GM's subsidiary, Cruise, presents a promising future, with the potential for significant revenue growth and margin expansion.
As Hyundai and General Motors navigate this complex landscape, the automotive industry in India will witness a transformation. The increased emphasis on electric vehicles and autonomous technology reflects the shifting priorities and evolving consumer preferences. With Hyundai's ambitious EV plans and Cruise's technological advancements, the future of the automotive industry in India appears promising, setting the stage for a new era of innovation and growth.
Also read these FintechZoom articles: