Rumors have been circulating that Microsoft is planning to invest $10 billion into the creator of the widely-used ChatGPT software (read Reuters article) , OpenAI, which was released last month. This would bring OpenAI's total estimated value to $29 billion. According to documents sent out to investors, the deal was expected to be closed by the end of 2022.
Microsoft's investment would include them receiving 75% of OpenAI's profits until the initial investment is paid off. After that, Microsoft will own 49% of the firm, other investors 49%, and OpenAI's parent organization 2%. There is also a cap on profits for each set of investors, which is uncommon in venture deals.
Microsoft and OpenAI declined to comment on the matter. Microsoft's $10 billion investment is a gamble for shareholders, as OpenAI is yet to figure out a way to make money. However, Microsoft stands to benefit from the deal because OpenAI will be using Microsoft Cloud, which will help it reach the same level as Amazon Web Services.
Moreover, Microsoft will be at the forefront of the development of AI technology, which could be the most important consumer technology over the next decade. OpenAI may face competition from other companies, such as Stability AI, who are also working on AI algorithms. It is still uncertain how these companies will generate a competitive advantage. Through this deal, Microsoft is betting that OpenAI will stay ahead of the competition.
Microsoft Stock Down -27.73% last year
Investors have been feeling uneasy this past year as they watch their portfolios decrease in value. One such stock that has particularly been hit hard is Microsoft, whose share prices have dropped 27.73% since last year.
Microsoft is one of the leading companies in the tech industry, serving more than 1 billion customers worldwide and employing over 161,000 individuals around the world. Microsoft's stock price had been steadily increasing for the past few years until recently when it dropped dramatically.
This sudden drop in Microsoft's stock prices has left investors wondering what led to such a huge decline and how it will affect their investments. In this article, we will discuss why Microsoft's stock has experienced such drastic losses and explore potential strategies investors can use to protect their portfolios from these losses.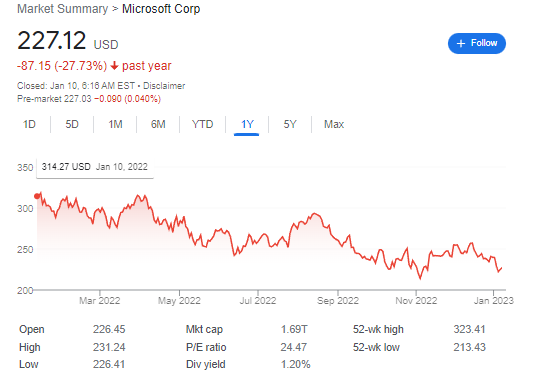 Will AI be the success Key For Microsoft shares?
Microsoft has been dominating the public market for years and its shares continue to reach inexcusable high-flying levels. But are these soaring prices due to a coming wave of artificial intelligence (AI) investments or just because Microsoft is such a solid stock pick?
With the advent of technology, AI has become an integral part of our lives. Companies like Microsoft have seen this phenomenon as an opportunity to invest in their own AI initiatives and use them to develop products and services that will drive long-term growth.
While Artificial Intelligence (AI) has great potential to take Microsoft's products, services and operations to the next level, it is too soon to say that AI will be the "success key" for Microsoft shares. AI is still in its early stages and there are many challenges to overcome before it can truly be considered a success. Additionally, there are other factors that influence stock prices – such as economic conditions, company performance and industry trends – so even if AI was successful, it may not have a significant impact on Microsoft's stock price.