Roblox, the popular videogame platform, experienced a significant setback as it announced its quarterly earnings results. The company reported lower-than-expected bookings, leading to a sharp decline in its stock price. This article will delve into the factors that contributed to Roblox's missed estimates, including its loss per share, revenue figures, user engagement, and future prospects. Additionally, we will explore the company's efforts to expand its user base and the implications of introducing mature content.
Lower Bookings and Stock Price Drop
Roblox's stock took a hit, plummeting by 17% following the release of its second-quarter results. The company reported a loss per share of 46 cents, slightly missing analysts' expectations. According to a Refinitiv survey, analysts had anticipated a loss of 45 cents per share. The disappointing earnings were accompanied by lower revenue figures, with bookings totaling $781 million compared to the estimated $785 million.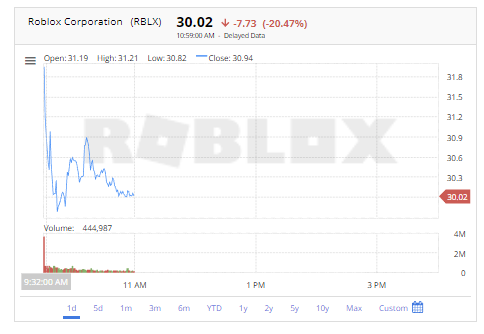 Understanding Bookings and Revenue Generation
Roblox generates revenue through the sale of its virtual currency, Robux. Users utilize Robux to enhance their avatars and unlock premium in-game features. The revenue figure reported by Roblox includes both sales recognized during the quarter and deferred revenue. Despite the missed estimates, the company experienced a 22% year-over-year increase in bookings. In the same quarter of the previous year, Roblox reported $639.9 million in bookings.
Also read: Roblox's Major Data Breach: What Happened and How to Stay Protected.
User Engagement and Growth
Roblox's platform boasts an impressive user base, with an average of 65.5 million daily active users, representing a 25% increase compared to the previous year. These users collectively spent over 14 billion hours engaged in the platform during the second quarter, indicating a 24% year-over-year growth in user engagement. This robust growth demonstrates the enduring popularity of Roblox among its primarily younger audience.
Expanding User Base and Introducing Mature Content
While Roblox has historically been popular among younger children, the company has been actively working to expand its user base across all age groups. In an effort to appeal to a wider audience, Roblox announced that eligible creators can now develop experiences featuring mature content. This includes themes of violence, romance, and moderately crude humor for users aged 17 and older. This strategic move aims to attract older users and diversify the platform's content offerings.
Net Loss and Future Outlook
Roblox reported a net loss of $282.8 million for the second quarter, an increase from the $176.4 million loss in the same period of the previous year. The company attributes the higher losses to the increased expenses required to support its business growth. These expenses include corporate overhead, developer exchange fees, infrastructure, and personnel costs. Roblox anticipates that it will continue to report losses in the foreseeable future.
Average Bookings per Daily Active User
An important metric for Roblox is the average bookings per daily active user. In the second quarter, this figure stood at $11.92, representing a 3% decrease compared to the previous year. While the decline is relatively marginal, it highlights the need for the company to focus on increasing user spending on the platform.
Investor Call and Communication with Shareholders
Roblox will hold its quarterly call with investors at 8:30 a.m. ET. During this call, the company's management will provide additional insights into the quarterly results, future plans, and address any concerns raised by shareholders. Effective communication with investors is crucial for restoring confidence and maintaining transparency in the face of disappointing financial performance.
Conclusion
Roblox's missed quarterly bookings estimates and subsequent stock price drop underscore the challenges faced by the company. Despite a growing user base and increased user engagement, lower-than-expected revenue figures and higher expenses resulted in a net loss for the quarter. However, Roblox remains committed to expanding its user base and diversifying its content offerings, including the introduction of mature content. The upcoming investor call will provide a platform for the company to address concerns and outline its strategies for future growth.
Also read these FintechZoom articles: