UnitedHealth Group (NYSE: UNH), a leading managed healthcare company, is experiencing a plunge in its stock value after seeing a surge in non-urgent surgeries, particularly those related to knees and hips. The increase in surgeries follows the pandemic-related delays that older adults faced while seeking medical attention. This development has led to higher costs for health insurers and potential profitability for hospital and surgical center operators.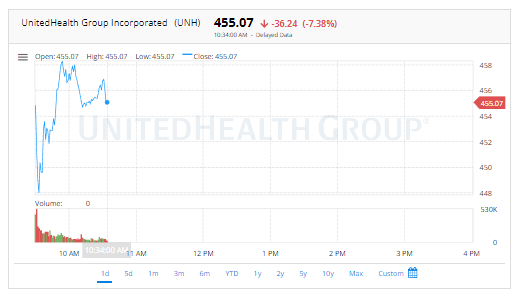 UnitedHealth Stock Plunge and Premarket Trading
The UnitedHealth stock value dropped by 7.35% in premarket trading following the company's revelation of an increase in non-urgent surgeries. The news has also negatively impacted the shares of other health insurance rivals, with Humana Inc. (NYSE: HUM) suffering an 8% slump, Elevance Health Inc. (NYSE: ELV) falling 4.8%, and Cigna Group (NYSE: CI) declining 4%.
On the other hand, hospital and surgical center operators are reaping the benefits of this development. Surgery Partners Inc. (NASDAQ: SGRY), a provider of surgical facilities and related services, saw its shares rise by 7.4% in premarket trading. Community Health Systems Inc. (NYSE: CYH) experienced a jump of over 10%, and HCA Healthcare Inc. (NYSE: HCA) gained 3%.
Factors Contributing to Increased Surgery Demand
With the easing of COVID-19 restrictions and the gradual return to normalcy, older adults are becoming more comfortable pursuing surgeries for knee and hip problems that they had deferred during the pandemic. UnitedHealth's Medicare and retirement chief executive, Tim Noel, highlighted the increased willingness of seniors to access services as mask mandates are lifted, particularly in physician offices.
Moreover, the healthcare system now has more capacity to accommodate these operations. These factors, combined, have led to a rise in the medical care cost ratio, which represents medical costs divided by premium revenue. UnitedHealth's CFO, John Rex, noted that the ratio for the second quarter would be at, or moderately above, the upper bound of its full-year outlook.
Impact on Earnings Estimates and Medicare Advantage Business
The increased medical cost ratio has raised concerns among analysts about UnitedHealth's ability to meet second-quarter earnings estimates. The higher surgery volume also poses a threat to Humana, primarily due to its larger Medicare Advantage business. Despite these apprehensions, Goldman Sachs analyst Nathan Rich attempted to emphasize the positive aspect by pointing out that outpatient costs are lower than inpatient costs.
Market Reactions and UnitedHealth as a Bellwether
Amidst UnitedHealth's stock decline, Truist analysts reduced their price target for the company to $580, down from a previous target of $610. However, they maintained their buy rating, arguing that the higher utilization trend results from the increased volume, not acuity, and is focused on a few outpatient areas.
UnitedHealth's remarks are not directly applicable to its rivals, but the company is considered a bellwether for the group and is known for its conservative guidance. As a result, J.P. Morgan analysts stated that UnitedHealth's comments "meaningfully increase the perceived risk" for its competitors.
Lessons for Health Insurers and Hospital Operators
The current situation presents an opportunity for health insurers and hospital operators to reevaluate their strategies and adapt to the changing landscape. Health insurers should closely monitor trends in surgical demand and adjust their pricing models to account for the increased costs. They should also work on strengthening their relationships with healthcare providers to negotiate better deals and maintain profitability.
Hospital and surgical center operators, on the other hand, can capitalize on the rise in surgery demand by expanding their capacity and optimizing their operations. By doing so, they can improve patient outcomes, enhance their reputation, and ultimately attract more patients.
The Role of the Pandemic in Shaping Healthcare Trends
The COVID-19 pandemic has significantly impacted the healthcare sector, leading to the postponement of non-essential surgeries and a focus on emergency care. As the world moves towards recovery, it is crucial for healthcare organizations to strike a balance between addressing the backlog of delayed surgeries and managing new cases.
Healthcare providers must also leverage technology and data analytics to forecast demand accurately and allocate resources efficiently. This approach will help them stay ahead of the curve and deliver high-quality care to their patients.
Long-Term Implications for UnitedHealth Stock and the Healthcare Industry
While the UnitedHealth stock has experienced a decline, the long-term prospects for the company and the healthcare industry as a whole remain promising. As more people gain access to healthcare services and the population continues to age, demand for medical care is expected to grow.
Health insurers and healthcare providers that adapt to the changing landscape, invest in innovation, and focus on patient-centered care will be well-positioned to thrive in the future.
Conclusion
The recent drop in UnitedHealth stock value reflects the broader challenges faced by health insurers as they grapple with increased demand for surgeries following pandemic-related delays. However, the situation also presents opportunities for healthcare providers to expand their capacity and optimize their operations.
As the healthcare industry continues to evolve, organizations that adapt to the changing landscape and prioritize patient care will be better equipped to succeed in the long run.