How do I calculate the electricity consumption of my camper? And how much electricity do I need in my mobile home? In this article, we will show you specific questions and our motorhome power consumption calculator, very simple and without tiresome formulas or tables, how you can calculate your power consumption in the camper and select the consumer battery you need. If you are unsure how many ampere hours (Ah) your new onboard battery in the camper should have so that you can be self-sufficient and free, this article is the right place for you!
Why you should know your electricity consumption in the camper
Before you worry about which RV battery type is right for you, you must first find out how much power consumption you have to reckon with. Because at the end of the day, if you need more electricity than your battery can deliver in Ah, you suddenly find yourself standing there in the dark (literally), and nothing works anymore. No cooking, heating, warm water, light, etc. Without electricity, some of the devices in the mobile home won't work in the long run.
Therefore, it makes sense to know your power requirements in ampere-hours (Ah). So you can choose the right battery size with the right number of Ah, and you are safe because you know that the battery capacity will be enough!
In this article, we calculate the camper's 12V and 230V power consumption. For this, we look at the following topics:
How can you narrow down the power consumption you will have in the camper in the future with specific questions?
You can then use our camper power consumption calculator to calculate your power consumption in the camper easily and determine the right supply battery for your mobile home electrics setup – without any annoying mathematical formulas or tables!
With the help of our targeted questions, you can get a rough idea of your daily power consumption in the camper. Let's get started!
How much electricity (Ah) do I need in the mobile home?
This question can only be answered individually. Some vanlifers need a lot of electricity or ampere-hours (Ah) because they work on the go. Others often do not go to a campsite for several weeks or months. And some have high power consumption in the mobile home because certain devices are on board.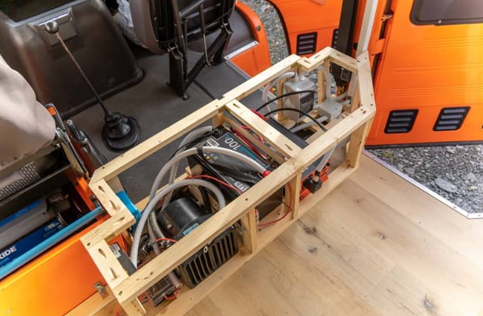 If you're one of these campers, you'll need a high amp-hour (Ah) RV battery for your camper conversion, and you'll need to adjust your RV electrical setup accordingly.
Other camper builders get by with less, are only on the campsite, and are constantly connected to a power source.
Which type are you? We want to find out with further sub-questions.
How long and where do I want to travel with my camper?
The first step is to find out what you want to use your DIY motorhome for. If you plan a trip around the world with your camper on which you will not meet a soul for several weeks (or months), you must plan your electrical system in the camper accordingly. As a result, you should also size your battery large enough.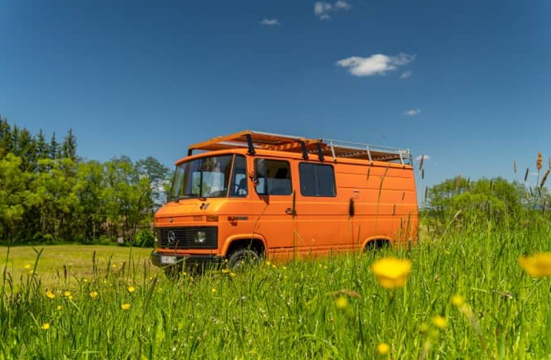 It looks completely different if you only use your vehicle for weekend trips or mainly want to drive to campsites with your camper. Logically, a smaller onboard battery is sufficient for your camper electronics.
The same applies to the regions you will head for: Are you more in the "dark" north, or are you drawn to the sunny south? In other words: can you produce a little solar power with your solar panels system or an extremely large amount?
First, be clear about the road trips you have planned with your camper because your mobile home electrics and the supply battery and solar system size are based precisely on these needs.
Which electrical devices do I want to take with me and use in my camper?
Have you ever wondered how many days a 100 Ah lithium iron phosphate battery would last you in a motorhome, for example, or whether you need more "power"? It all depends on which devices, how many, and how long you want to supply them with electricity. You can easily calculate your electricity consumption in the mobile home with our electricity consumption calculator further down in this article.
A laptop, smartphone, and camera should not be missing from your camper. And the LCD screen for the television must also be included? Your stove in the DIY camper runs on electricity and not on gas? And you only dry your hair with a hair dryer?
If you could answer these questions with a clear "yes," you have a higher power consumption than someone who might only want to charge their smartphone via the battery in their camper. The power supply in the mobile home depends to a large extent on your need for electrical devices.
Read also this FintechZoom related article: How to Save Money with a Camper on Long Road Trips.
So think about which electrical devices (12V AND 230V) should not be missing in your motorhome. However, the following applies here: less is more ;-).
In our case, we have a maximum daily power consumption of approx. 85 Ah (including a 40% safety buffer). With a 100 Ah lithium battery, we can get by for 1 day before we have to recharge it. If we were to opt for an AGM battery, it would have to have 170 Ah (85*2 = 170) since AGM batteries should only be discharged to 50%.
However, we do not charge our laptops, cameras, and mobile phones daily, but every 2 to 3 days. Depending on the season, we also need less or more LED light in the bus.
When calculating your power consumption in the camper, you can alos ask help to the Renogy's solar power calculators here, it is best to always start from the maximum power consumption and allow for a buffer. In the end, you are secured and don't suddenly find yourself with an empty battery.
Do you want your onboard battery to last longer than a day? Then multiply your total consumption times the number of days and select the appropriate battery size.
Conclusion
We hope that with this blog post on the subject of "calculating power consumption in the camper" and our 12 volt battery calculator, we were able to take away your fears before taking your first step towards DIY camper electronics.