The Dow Jones Industrial Average has experienced a dramatic recent rise, climbing to over 32800 points on October 28th. This represents a significant improvement from its lowest point in the past year, which occurred on September 30th when the index was at 28800.
While many factors have likely contributed to this upward trend, some key drivers seem to include recent high levels of liquidity, falling unemployment rates, and an encouraging global economic outlook. Whatever the reason for this success, it is clear that investors can feel optimistic about the future of the Dow and its continued ability to generate strong returns for those who are invested in it.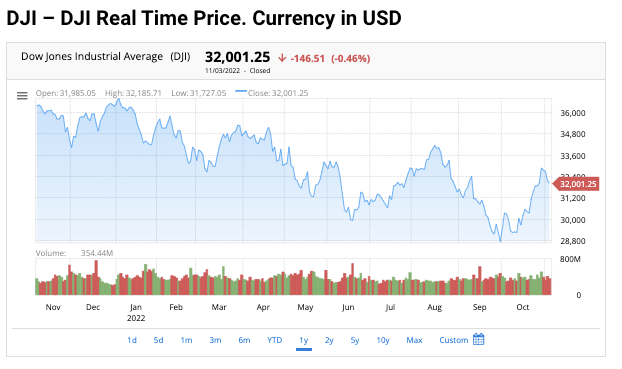 The Downfall since October 28th
The economy has been in a state of flux for several months now, with the stock market experiencing dramatic swings and major indexes losing significant amounts of value. The recent drop in the Dow Jones Industrial Average index is just one example of this volatility; since October 28th, the index has lost more than 1000 points and is currently hovering around 32001 on November 3th.
This dip is likely a reflection of the ongoing energy crises that are currently impacting Europe and the United States. With concerns about potential gas shortages and rising fuel costs, consumers are holding off on major purchases, which in turn impacts businesses large and small.
Additionally, this period of economic uncertainty may also be due to mounting inflation, as many analysts predict that we could see price increases across multiple sectors in the coming months. Whatever the cause, it is clear that the economy remains unstable and unpredictable, making it more important than ever for policymakers to stay vigilant in their efforts to maintain economic stability.
Nasdaq Composite with same behaviour than Dow
The Nasdaq Composite index has been on a downward trend since October 28th, with its value currently hovering at just over 10,000 points (10,342). This sharp decline is particularly troubling given that the index had previously reached an high of over 13,050 points in August. While some analysts have attributed this weakness to increased market volatility and a downturn in investor confidence, others have suggested that it may be due to more fundamental changes within the economy. However, despite these fluctuations, many experts agree that the long-term outlook for the Nasdaq remains positive.
With tech companies continuing to thrive, and with innovative new companies emerging on a regular basis, there is every reason to believe that this important index will eventually begin to recover. And while we must be vigilant in monitoring any shifts in market conditions, we can remain confident in the continued success of the Nasdaq.