Tesla has seen a stellar performance in the past quarter, with its vehicles production rising by 47% compared to the same period last year. But what does this mean for investors?
The electric vehicle (EV) market has been booming lately, and Tesla is at the forefront of this clean energy revolution. Tesla's stock price is up 8.8% since it announced the increase in production, reflecting the positive sentiment among investors over its strong performance.
Read this FintechZoom Article: Discover the Green Revolution: EV Vehicles Production Is Taking Off!
This surge in Tesla's stock price can be attributed to several factors such as its innovative products, growing consumer demand for EVs, and effective marketing strategies. However, if you were an investor considering investing in Tesla stocks, it's important to evaluate both short-term and long-term prospects of the company before making a decision. Therefore, let's explore how this increase in production will potentially impact Tesla's future endeavors.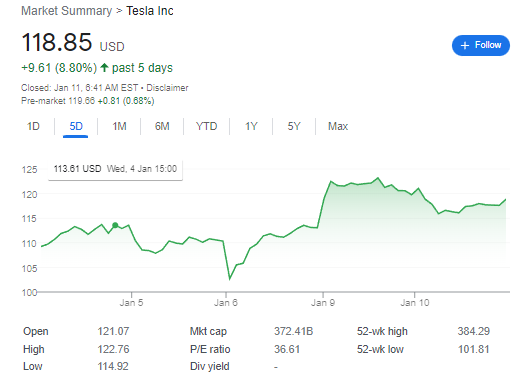 The production of Tesla cars for 2022's final quarter increased by 47%
During the fourth quarter of 2023, Austin, Texas saw the production of more than 439,000 vehicles and the delivery of 405,000. In the year prior, deliveries rose 40% in comparison to the previous year and production increased by 47%. This was because the company shifted towards a more balanced global distribution of vehicles, resulting in a larger number of vehicles in transit at the end of the quarter.
Q4 2022
| | | | |
| --- | --- | --- | --- |
| | Production | Deliveries | Subject to operating lease accounting |
| Model S/X | 20,613 | 17,147 | 9% |
| Model 3/Y | 419,088 | 388,131 | 4% |
| Total | 439,701 | 405,278 | 4% |
2022
| | | | |
| --- | --- | --- | --- |
| | Production | Deliveries | |
| Model S/X | 71,177 | 66,705 | |
| Model 3/Y | 1,298,434 | 1,247,146 | |
| Total | 1,369,611 | 1,313,851 | |
Tesla's Stockpile Grows: What Reductions in Prices Can You Expect?
Over the past six months, Tesla has had an inconsistency of 50,000 cars between ones made and those delivered. This has caused a few places, especially those beyond the U.S., to have a surplus of Tesla vehicles at the start of the year.
Tesla is commonly known to not give out discounts on their electric vehicles, yet, as inventory levels have become abnormally high for this time of year, the company is providing rebates in multiple markets. During the previous quarter, it was observed that the company was offering unusually large discounts, which led some analysts to believe that the demand for their products was decreasing. Even though the quarter has ended, Tesla is still offering price reductions in countries such as China, Australia, Singapore, South Korea, and Japan. In Singapore, buyers can get a $5,000 discount for exchanging their current internal combustion vehicle for a Tesla and an additional $5,000 to cover the cost of the certificate to operate the car. Furthermore, new buyers get a complimentary Wall Connector. This situation is atypical for the company as they usually have a low level of inventory in the start of the quarter, especially overseas, where they wait for new shipments. However, over the past two quarters, the number of cars produced and delivered has had a difference of around 50,000, which has resulted in Tesla having an inventory build-up at the beginning of this year.
The opinion of FintechZoom
At the conclusion of the preceding quarter, it was evident that Tesla was facing difficulties in terms of consumer demand. This recent development definitively proves it. Tesla's production capabilities have grown exponentially in the past year, but it seems the current prices are not eliciting the desired amount of interest.
Tesla by far has the largest electric vehicle market share in the US, however the other brands are creating new eletrics cars like Ford Mustang Mach-E, Chevy Bolt EV/EUV, Volkswagen ID.4
| Model | Market share |
| --- | --- |
| Tesla Model Y | 29% |
| Tesla Model 3 | 23% |
| Ford Mustang Mach-E | 4% |
| Chevy Bolt EV/EUV | 4% |
| Volkswagen ID.4 | 3% |
| Others | 37% |
According to Tridens
1. Ford Mustang Mach-E
Ford is recapturing its classic muscle-car heritage with the Mustang Mach-E, an all-electric SUV available in rear and all-wheel drivemodels. The Mach-E's greatest strength lies in its versatility: it will go from curb to 60 mph in as little as 3.5 seconds, with 310 miles of range on a charge and up to 480 horsepower on theGT version. Its interior features a 15.5″ touchscreen display, automatic climate controland luxury fabrics, plus plenty of cargo space for carrying belongings or pets on longrides.
2. Chevy Bolt EV/EUV
The Chevrolet Bolt EV/EUV are offerings from General Motors' Chevrolet brand that serve as alternatives to Tesla's growing lineup of electric vehicles (EVs). They will come withsingle motors providing 200 horsepower and 266 lb.-ft of torque that gives the car acapacity to go zero to 60 mph in 6.5 seconds with a range up to 259 miles on a fullcharge. It also has various driver-assist technologies such as Lane Keep Assist(LKA) and Automatic Emergency Braking (AEB) for enhanced safety standards.
3. Volkswagen ID.4
Volkswagen is continuing its embrace of electric vehicles by introducing the ID.4 A compact crossover SUV offering both pure electric propulsion and over 250 miles ofrange per charge off an estimated 82 kWh battery pack with 201 horsepowermotors at each axle for great traction no matter where you're driving it.. Rechargingfor road trips takes less than 30 minutes using an DC fast charger; home charging iseven faster when using an AC wallbox charger or standard 120v outlet – reaching 80percent power in approximately 7 hours! An intuitive infotainment system helpsentertainment needs while LED headlights provide adequate nighttime visibility toprove you know nothing beats the freedom of being behind the wheel
4. Tesla Model S/X/3
Tesla already leads many lists covering electric vehicles, but they stand apart with their luxurious fleet ranging from the Model S sedan to their roomy Model X Sports utility vehicle,to their mid size Model 3 sedan. The flagship Tesla models offer Autopilot driverassistance technology enabling Auto Park, Smart Summoning and Navigate onAutopilot capabilities while adjusting speed limits along highways automatically toreact updated speed limit signs,. All three options provide ample interior comfortfacilities such as heated seats ,venetians blinds rearview mirror camera .