Most Expensive Watches. The list begins with the least expensive model and culminates with the priciest.
Also read: The Ultimate List of Stores for Fine Jewelry and Luxury Watches for Sale.
20. Vacheron Constantin Tour de I'Ile – $1.5 Million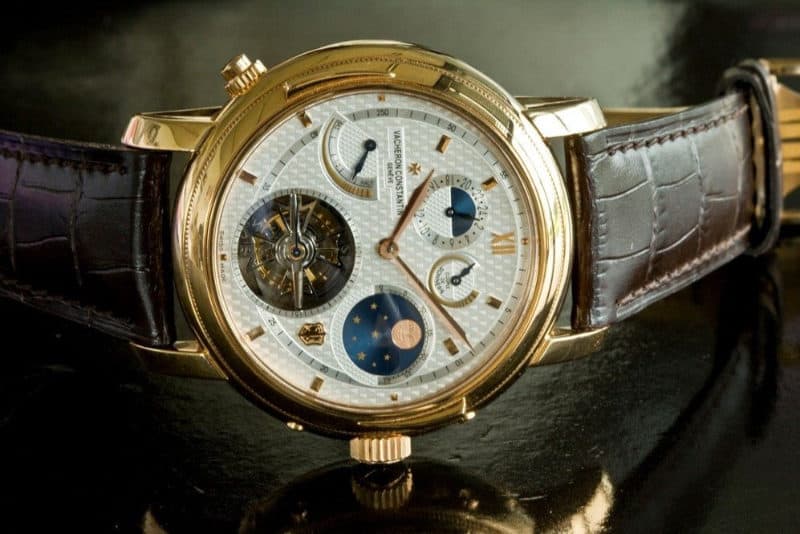 Starting off of our list watches is the Vacheron Constantin Tour de I'Ile.
Priced around a cool $1.5 million, this watch, like most on our list, is only going to be attainable for a certain type of elite clientele.
The wristwatch was manufactured by Swiss manufacturer Vacheron Constantin and was released in 2005.
The release marked the manufacturer's 250th anniversary. They only manufactured 7 limited edition pieces to maintain exclusivity.
Once dubbed "the most complicated wristwatch in the world", the Although the Tour de l'Ile no longer holds that title but still demands an impressive price!
19. Lange & Söhne Grand Complication – $2.5 Million – Most Expensive Watches
Making its debut in 2013, the Lange & Söhne Grand Complication is currently the brands most expensive watch.
Taking just over a year to make, the complicated wristwatch acquires its value from its multiple complications.
The watch has 876 intricate moving parts in total and is housed in a gold case. It measures 50mm in diameter and 20mm thick.
It has a moonphase perpetual calendar, a grande and petite sonnerie with minute repeater, and a split-second chronograph.
Not too shabby!
18. Franck Muller Aeternitas Mega 4 – $2.7 Million
Coming in at number 17 on our list of the most expensive watches in the world is the mindbogglingly complicated, Franck Muller Aeternitas Mega 4.
It holds the record for being the most complicated wristwatch in the world and features a staggering 1483 components, which is a world record.
The watch has an eternally renewable calendar that doesn't need to be adjusted for 1000 years!
So, if you're considering purchasing a watch of this calibre then dropping a cool $2.7 million might be worth it.
17. Patek Philippe 1928 Single Button Chronograph – $3.6 Million – Most Expensive Watches
Created in 1924, this gorgeous timepiece was previously the property of world-famous guitarist, Eric Clapton.
Made of 18kt white gold, the single button chronograph is also adorned with 28 different jewels.
The one of a kind dial also tells the current moon phase.
The quality and craftsmanship of the 1928 timepiece are evident in its 99-year existence.
16. Patek Philippe 5004T – $3.9 Million
Breaking out of the 5004 discontinued series is the 5004T.
It was designed and built specifically for auction.
Compared to its more conventional counterparts, the 5004T has a more sporty look to it, thanks to its titanium body and contrast stitching.
However, don't let that fool you into thinking it's of lesser quality, as it's still just as luxurious as all other Patek Philipe models.
The watch got so much attention at auction, it created a bit of a bidding war!
15. Rolex Daytona Ref. 6263 Oyster Albino – $4 Million – Most Expensive Watches
Our first Rolex to be featured is the Rolex Daytona Ref. 6263 Oyster Albino. Its name originates from its distinctive white hue on its chronograph subdials.
Still one of Rolex's most expensive watches, it features a stainless steel case and bracelet, and a Caliber 727.
Once owned by Eric Clapton, the watch demands such a high price due to its limited numbers.
Only four units were ever made!
14. Breguet Antique Number 2667 – $4.5 Million – Most Expensive Watches
The first pocket watch to be featured on our list is the Breguet Antique Number 2667.
Sometimes, wearing a watch on your wrist might not be appropriate, so carrying a classicly designed pocket watch might be a better option.
Housed in 18kt yellow gold, the watch features two oscillating bodies mounted on an elegant dial.
Luxurious Sophistication meets traditional design!
13. Louis Moinet Meteoris – $4.6 Million
The 13th most expensive watch on our list is just out of this world!
The Louis Moinet Meteoris is one of the rarest watches ever. Not only are there just four watches in total, but each watch contains a real piece of moon rock!
Add-in some top-notch mechanics and expensive materials and it's easy to see how it's become one of the most expensive watches in the world.
However, it's still a bargain, as the Meteoris collection of watches came as a set!
12. Hublot Big Bang Diamond – $5 Million – Most Expensive Watches
If you want a bit of bling in your life, then the Hublot Big Bang might be right up your street.
Costing $5 million, the watch features 1280 three-carat diamonds, all hand cut by a New York City Jeweler with 40 years experience.
It was gifted to Jay-Z by his wife, Beyonce, on his 43rd Birthday, and is just about as luxurious as it gets!
11. Patek Philippe Calibre 89 – $5.5 Million
The second pocket watch to feature on our list is the timelessly sophisticated, Patek Philippe Calibre 89.
It's a commemorative pocket watch created in 1989, to celebrate the company's 150th anniversary. Patek Philippe declared the 89 as "the most complicated watch in the world" at the time of creation. It weighs 1.1kg and has 1,728 components in total, including 33 complications and 24 hands.
If you're not really in the mood for a wristwatch then a pocket watch of this calibre is the next best thing!
10. Patek Philippe Ref. 1527 – $5.7 Million – Most Expensive Watches
Crafted in 1943, the Patek Philippe Ref. 1527 can appear to be rather ordinary on the outside, however, the watch contains more than twenty different precious stones and is made from 20 Karat rose gold.
The watches price tag comes from two things. The first, it is incredibly rare and was the only one of its kind. The second, Patek went on to use this model as inspiration for several other models.
9. Patek Philippe Ref. 1518 in Stainless Steel – $11 Million
Cased in high-grade stainless steel, the 1518 is the first in a limited edition four-piece series by Patek Phillipe.
Selling at auction for $11 million, 1518 is different from most other Patek luxury watches, which are made of rose or yellow gold because it's the only perpetual Patek calendar chronograph made of steel.
If you've got the cash, why not!
8. Paul Newman Rolex Daytona – $17.6 Million
Now, this is what you call a rare watch!
Paul Newman was a world-famous actor and passionate about horology and motorsport. His wife gifted him this watch to pay tribute to his passions.
The watch has a unique black and cream exotic dial. It is estimated that only one in twenty Daytonas were equipped with the "exotic" dial because they were originally slow to sell.
However, after Mr Newman was seen wairing the watch whilst pursuing his racing career, the price escalated and was later sold for a handsome figure at auction!
7. Jacob & Co. Billionaire Watch – $18 Million – Most Expensive Watches
Made from 260-carat emerald cut diamonds, the Billionaire watch certainly lives up to its name.
It has a beautiful stylish skeleton face and is a dazzling representation of the courageous and rebellious Jacob & Co. spirit.
Wearing this watch will turn a lot of heads and is guaranteed to get the conversation started!
6. Patek Philippe Henry Graves Supercomplication – $24 Million
The most expensive watch by Patek Philippe on our list is the Henry Graves Supercomplication, created for a wealthy American banker of the same name.
This intricate timepiece consists of 24 complications and includes a perpetual calendar, minute repeater with Westminster Chimes, sunrise and sunset times, and a celestial chart, based on the night sky above the owners home in New York.
What a stunning watch!
5. Chopard 201-Carat Watch – $25 Million
To understand why the Chopard 201-Carat watch is one of the worlds most expensive watches, just refresh yourself with the manufactures name.
The watch is encrusted with a cluster of colourful diamonds, including a 15-carat pink diamond, a 12-carat blue diamond and an 11-carat white diamond.
If that's not enough, then perhaps another 163 carats of white and yellow diamonds will do the trick!
4. Jaeger-LeCoultre Joaillerie 101 Manchette – $26 million
Customisable to feature up to 576 diamonds and a sapphire dial, the Jaeger-LeCoultre Joaillerie 101 Manchette was gifted to Queen Elizabeth II to celebrate her 60th year in power.
It uses the mechanics of the manually wound Jaeger-LeCoultre Calibre 101 and the watch face has a silver-coloured dial and a winding crown.
$26 million and it's yours!
3. Breguet Grande Complication Marie-Antoinette – $30 Million – Most Expensive Watches
Encased in gold, displaying the intricate mechanics behind inside it, the beautiful pocket watch was allegedly commissioned by an ex-lover of Marie Antoinette, the French queen.
Work first began on the watch in 1782 and it took the best part of 40 years to make.
It was completed in 1827 and the result was a true masterpiece of design and technology, containing every function available at that time.
Unfortunately, however, Marie Antoinette was executed before getting to see the finished watch.
Such is life!
2. GRAFF DIAMOND'S FASCINATION – $40 Million
If you just so happen to have $40 million tucked away in a drawer somewhere and you're into traditional-looking diamonds, then this might be the watch for you.
Dubbed as the most expensive watch ever, The Fascination by Graff Diamonds contains 152.96 carats of white diamonds.
However, it also features a detachable, 38.13-carat pear-shaped diamond ring, located in the centre of the watch!
A watch and a ring, what a bargain!
1. Graff Diamonds Hallucination – $55 Million – Most Expensive Watches
Claiming the title of the worlds most expensive watch is the Hallucination by Graff Diamonds.
Opulence and luxury at its finest, the Hallucination costs even more than the most expensive watch ever made.
The watch is set into a platinum bracelet and made from 110 carats of rare coloured diamonds of various cuts and finishes.
The Hallucination is a one of a kind statement-piece that pushes the boundaries of Horlogerie to their most extreme.