Incoming recession and pressure on real incomes likely to cost most households £800 a year
Markets gain confidence as rumours swirl China could relax Covid rules
Starbucks beats expectations as customers spend big on expensive drinks
Brent crude erases recent losses on tighter supply outlook
Sophie Lund-Yates, Lead Equity Analyst at Hargreaves Lansdown:
"Britain is bracing for the longest recession since the 1920s, the Bank of England warned yesterday after announcing the largest interest rate hike in 30 years. Latest predictions are that the incoming big squeeze on real incomes is going to cost the majority of households £800 a year. The poorest 10% of these households are expected to be hit harder, because they spend a higher proportion of their monthly budget on utilities and food, where prices have been accelerating faster than other areas.
These disheartening messages come as the Bank of England chief has spoken out about the perils that come along with the UK's tight labour market, which puts the nation's inflationary conundrum at an elevated level, when compared with other countries. The tight labour market creates significant inflationary pressure, even though the Bank of England sees price rises falling below 10% in the second quarter of next year, with the issues stemming from the sharp contraction in the UK labour force since just before Covid. There's also heightened uncertainty when it comes to assessing the Bank's forecasts, with the government's fiscal plans not being laid out until 17 November. Until we have those pieces of the puzzle, the economy's trajectory is very hard to map.
Hong Kong's Hang Seng has gained confidence, rising around 6%, on rumours China could relax its strict Covid policies. This is likely to spread across to more positive momentum in the UK too. China's impenetrable policies have caused a great deal of economic pain, both inside and outside the country. Supply chains, manufacturing and demand have all come under very serious pressure. Any indication that some rules could be relaxed would be an immediate dose of grease in the jarring cogs of China's economy.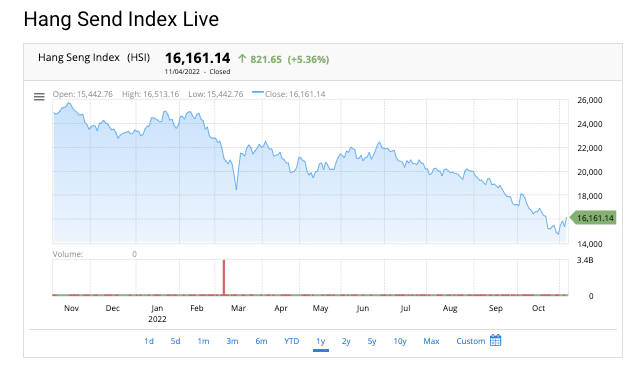 Starbucks' revenue and earnings have topped analyst expectations, driven by US customers splashing out on the likes of iced coffee and Pumpkin Spice Lattes. Customers embracing the autumn spirit meant US traffic is almost back at pre-pandemic levels. There was an 11% increase in same store sales in the US over the last financial quarter, with people spending more on average. This is a huge achievement in the current environment and speaks volumes for the power of the Starbucks brand, as well as the remaining resilience of the US consumer base. As we know though, conditions are set to become more difficult in the coming months, and it will be crucial to monitor how Starbucks' festive range fares over the holiday season.
Brent crude is trading over $96 a barrel, wiping out losses from the previous session and heading towards the highest level in close to three weeks. The change stems from anxiety around tight supply, with the OPEC+ production cuts going live later this month, and the European ban on Russian oil following suit shortly after. It's worth remembering that prices are still almost 30% down since June, in response to the swift and severe action taken by central banks to combat inflation, which increases the risk of recession. The gradient of economic downturns is what will determine the impact on oil markets, but the general consensus remains that demand is going to temper next year."