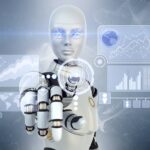 The financial services industry has been changing drastically in recent years. Fintech startups play a significant role in shaping the industry through innovative business models and technologies. Through financial software development, Fintech startups offer easier payment processes, faster investments, and lower costs in banking operations.
The future of Fintech is not much of a mystery. Imagine an ecosystem where artificial intelligence (AI), blockchain, cloud computing, and other tools are used to change the financial services industry. Any of the technologies mentioned above can be used in isolation to make meaningful changes. Combine them, and you will see some amazing innovations in this space in years to come. That much has been confirmed by research.
The changing financial ecosystems
New technologies that didn't exist just a few years ago are disrupting old ecosystems, making it easier than ever for businesses and customers to perform banking operations on mobile apps. From cloud computing to APIs, applying technology to the finance space has opened up new opportunities for financial institutions and a new way for developers and innovators to create applications that fill in the gaps in the existing financial system.
In recent times, financial institutions and tech companies have managed to overturn, reshape, and even ignore the rules governing the financial industry through Fintech. Blockchain, for example, has eliminated the need for banks in financial services. As a result, Fintech is creating a new way of doing things in financial services, allowing new product development and delivery, increasing market access, and changing customer behavior.
We have seen an explosion of fintech startups in the past few years. Deloitte, one of the world's largest consulting firms, estimates that the fintech industry will be worth around $213 billion by 2024, away from $179 billion in 2020.
In addition to new fintech startups disrupting traditional financial services with innovative products and services, the large tech players have started to enter the market – with their significant user bases and immense amounts of data. Companies like Meta, Apple, and Google now offer embedded finance services to their global market.
Before now, financial products are typically complex and expensive to build. Financial products are sometimes unavailable to those who need them. But not anymore. Advancements in artificial intelligence, cloud computing, and blockchain are driving innovation in financial applications.
Artificial intelligence
The future of financial applications is where artificial intelligence (AI) and machine learning (ML) are used to enhance customer experience, reduce costs and increase efficiency. AI will be used in many ways, from automating compliance checks to helping clients make smarter financial decisions. Here are some areas where AI will be beneficial and disruptive.
Algorithmic credit scoring and loan underwriting.
AI-powered algorithms can help banks improve their loan approval rates by using machine learning to score consumer applications based on objective information like income, credit history, savings, or other factors.
Automated KYC (know your customer) and digital account opening.
An automated KYC process can cut costs and improve customer satisfaction by streamlining compliance requirements before opening accounts or providing customers access to new services or products.
Fraud detection and security analysis.
AI-powered algorithms can help banks identify patterns of fraud based on behavioral patterns stored in databases or analyzed through big data analytics tools like Hadoop or Apache Spark. They can also detect suspicious transactions faster than humans and provide more accurate alerts.
Blockchain
Financial institutions are beginning to adopt blockchain technology into their business models and developing their blockchain applications. This is because blockchain offers many benefits over traditional database systems. One of the biggest challenges facing banks is the slow speed of payments. Blockchain technology could help facilitate faster payments at lower fees than banks. In addition, it allows people to exchange money without involving a middleman, such as a bank or government. It also allows for transactions to be recorded and verified in a transparent, secure, and permanent way.
Decentralized finance — or DeFi — is a subcategory of blockchain applications that uses smart contracts to remove intermediaries from the equation altogether. The total amount of crypto assets managed by DeFi platforms has already surpassed $2 trillion, according to data from McKinsey & Company. For fintech companies, there is much to pay attention to in the blockchain industry.
Cloud computing
Cloud computing has transformed the way we do business. We can now access our data from anywhere, anytime and on any device. This is great, but how does it impact financial services to improve the services provided?
Research conducted by McKinsey indicates that cloud computing can help organizations save on application development and maintenance costs, reduce infrastructure costs, prevent downtime, and keep technical regulations violations to a minimum.
However, cloud adoption in banking applications is still in its infancy due to security and privacy concerns. For example, less than 10% of UK banks' business infrastructure is currently hosted on the public cloud. In addition, a 2022 survey of senior banking professionals by Publicis Sapient revealed that many financial institutions in APAC, EMEA, and North America have yet to transition more than a third of their applications into the cloud.
In the future, we may see more businesses build cloud-ready applications, especially given the growing obstacle facing cloud adoption. Already, financial institutions are partnering with cloud providers like Microsoft and IBM to help them develop better cloud support in their financial apps. In other words, keep this in mind if you're creating a financial app today.
Embedded finance and financial services from tech companies
Financial services are being integrated into everything from mobile apps to smart home devices. And because these applications tend to be easy to use, they're more likely to be adopted by consumers and businesses alike. For example, Uber offers a payment option directly within its app, making it easier for customers to pay for rides without going through another service like Venmo or PayPal. This trend will continue as more tech companies offer integrated financial options within their products or services — especially those that target millennials who demand more seamless experiences.
Why tech companies have all it takes to champion embedded finance
Instead of just building apps that solely rely on banks for payments, they are embedding their services into existing financial products and processes. They are using their expertise in areas such as artificial intelligence, machine learning, and cloud computing to create applications that will make it easier for people to manage their finances.
Big Tech like Google and Meta are getting into the financial services game with offerings like Google Pay and Meta Pay. These companies have vast amounts of customer data at their disposal, which they can use to better understand how people shop online or pay bills. This "unfair advantage" helps them ultimately make smarter decisions about their offerings.
Summary
The future of Fintech will offer more seamless, secure, and simple financial services. As we can see, tech companies are helping their customers manage their finances better, and financial institutions are embracing technology from startups and tech giants to service their customers further. What is clear from this conversation is that Artificial intelligence, cloud computing, and blockchain will lead to a new landscape for all parties involved in the field. And the future belongs to businesses and finance providers who are not afraid to disrupt themselves using Fintechs.